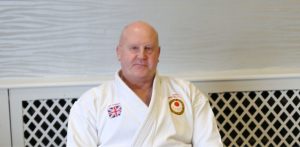 To our dedicated students,
The SSKA has been enriching students life with karate since 1987 and in all those years we've never experienced at times quite like these.
The COVID-19 pandemic is impacting families and businesses everywhere meaning it is a challenging time for all of us. The most important thing is we remain healthy and listen to the Government's advice and Stay at Home.
We were disappointed that our Swindon grading could not take place as planned and some of you missed the opportunity to grade for your black belts however your safety is more important to us.
I am grateful to have a very dedicated team of instructors who are actively supporting their students, generating online lessons, providing virtual one-to-one sessions and sharing training plans online. More than ever it is important to try and keep some routine in our lives and I thank my instructors for their hard work.
We certainly can't wait for the day when life returns to normal and we can open our doors to students again. If you need any help or advice with your training please don't hesitate to get in touch, we are here for you.
I'd like to personally thank those of you who are NHS or key workers and doing your everything to keep the world in order and supporting our families. Thank you.
Keep safe, keep well and keep in touch.
All the best wishes
Sensei Cole
Chief Instructor SSKA